Laura Bush petunias might just be the answer for those of you who have tried growing other petunias through the heat of our San Antonio summers, only to watch them practically melt in front of your eyes. Laura Bush petunias keep pumping out their blooms even when the hottest days set in; there's even more to be excited about with these beauties so read on.
Laura Bush petunias offer vibrant, fragrant, magenta/purple flowers that contrast against dark green foliage in a spectacular fashion. This old-fashioned variety of petunia was specifically bred to achieve excellent heat tolerance and disease resistance, and that's exactly what it has.
When summer's heat arrives, many of our perennials and annuals begin to shut down their blooms, but Laura Bush petunias laugh in the face of the sun and keep on flowering. In fact, they generally bloom from April to the first frost. That's a long time to enjoy these dazzling flowers.
Here's one of the best parts about Laura Bush petunias, they come back! Unlike other annuals that need to be replanted each year to enjoy them again, Laura Bush petunias readily reseed themselves so a fresh patch can be expected to greet you the following the year provided the area that the seeds have fallen in goes undisturbed.
The trailing habit of Laura Bush petunias also lend to a beautiful display in hanging baskets, cascading over rock walls, or even just spreading along the ground. Periodically trimming the petunias back actually enhances the look of the plant and encourages even more of the prolific blooms. Average growth for Laura Bush petunias is about 24″ H x 36″ W.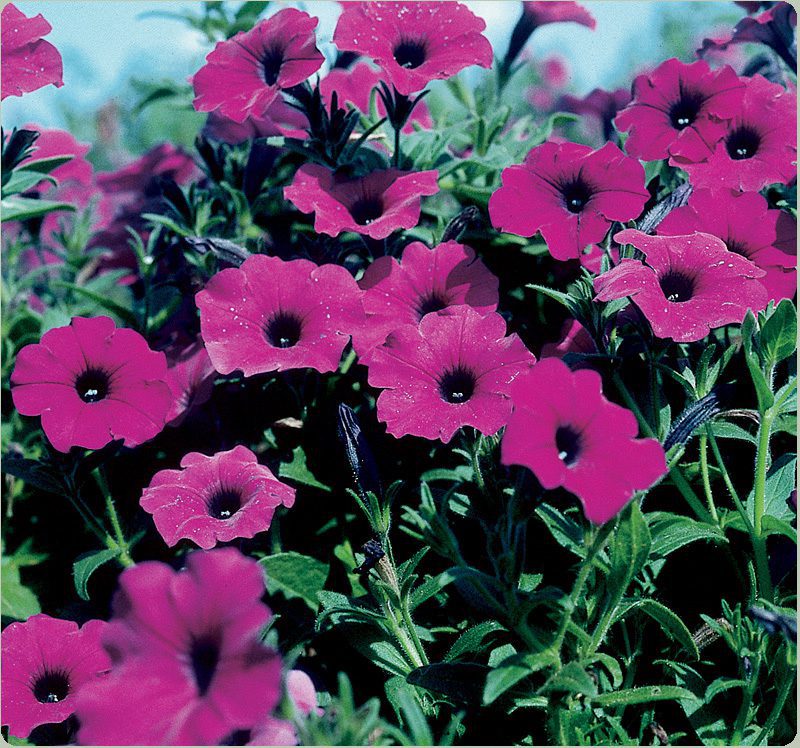 Photo courtesy: aggie-hort.tamu.edu
Growing Laura Bush Petunias
You'll need at least a minimum of 7 hours of sunlight to gain the most flowers. While they can tolerate a little light shade in the afternoons, or dappled shade, those 7 hours of sunlight ensure you the best chance at full flower power. Too much shade will just give you spindly plants.
Fertilize your Laura Bush petunias with a slow release fertilizer about a week after planting, and continue to feed monthly. When watering, attempt to water around the root/ground level, as a opposed to overhead watering. Petunia flowers take awhile to recover from water on their blooms and Laura Bush petunias are no different. Drip irrigation is great, or use a nozzle that you can focus beneath the foliage. Make sure your soil is well-draining so that your petunias can be watered thoroughly but won't be sitting in wet soil for too long.
It's a great time to try Laura Bush petunias. Both of our locations currently have some in stock (5/23), but if you come much later, we might not. Best to call ahead to see if you decide to delay a visit. We think once you try them, you will fall in love with these hardy beauties!
~The Happy Gardener, Lisa Mulroy