Beginning Vermicomposting Workshop
March 24 @ 1:00 PM

-

2:00 PM

$65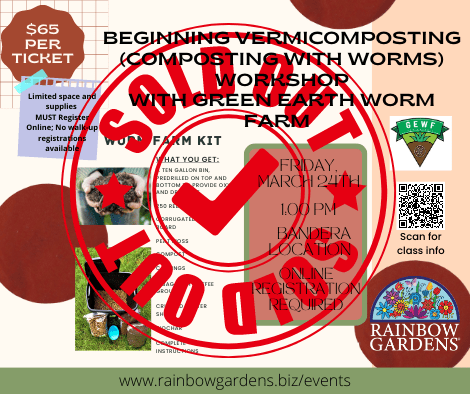 Beginning Vermicomposting (Composting with Worms) Workshop
In this workshop, Green Earth Worm Farm SA will teach us all about vermicomposting, a composting method where worms convert food scraps into two of the best amendments on earth: worm castings, a fancy name for worm poop; and worm tea, a liquid fertilizer derived from either castings or the leachate collected from a worm bin. The humus in earthworm castings helps increase soil's water retention, improve soil aeration and anchor plant nutrients that would otherwise leach away with water. Castings also feed beneficial soil microorganisms that produce, store and slowly release plant nutrients into your soil to feed plants.
In this workshop you'll receive:
Hands-on instruction and important information about raising and care needs for your worms, 1 complete Farm Kit – A ten gallon bin, predrilled on top and bottom to provide oxygen and drainage, 250 Red wigglers, corrugated card board, peat moss, castings, compost, a bag with coffee grounds, crushed oyster shells and biochar and complete instructions. All paid attendees will also receive $20 in bonus bucks that can be used in the month of August. Space and supplies are limited. Reserve you spot now! If you plan to bring a "significant other", but only want to purchase the 1 kit for your household, please purchase your ticket, then email rainbowgardensevents@gmail.com and let us know that you are bringing your spouse, so we can be sure there is enough seating. Thank you.
https://www.redwigglersland.com/
Related Events