As a homeowner, it's important to assess any damage your turf may have incurred from last year. Consider factors like drought, pests such as grubs and chinch bugs, excessive shade from trees, and diseases like "take all patch." It get pretty obvious to see any damage or areas that need attention in your lawn as spring arrives in San Antonio. Corrective and preventative care for your lawn should start now.
Consider last year's lawn history to determine if re-sodding, reseeding, or simply filling in damaged areas is necessary, Do you need another application, or a first one, to treat the soil for any turf disease issues you may have incurred last year? Did you think your lawn was filling in thick and green, only to look closer and see that the 'green' is just an abundance of weeds because you neglected to apply pre-emergent in fall?
Make a Plan for Lawn and Turf Care Now
My point is, lawn problems like pests, disease, weeds, etc… can quickly get out of control if you don't stay on top of them, and you may not see the full extent of their damage until the following year! What you are looking at now, is most likely a result of last year's issues. Keep to a regular lawn maintenance program, and treat problems as early as you detect them and you will have a better chance at a lush, healthy lawn.
Now is the time to commit to lawn care for this year. If you need to sod or seed, get going. Take advantage of spring rains to help your new grass get established. I'll be doing it right with you. My lawn took a severe beating after 'take all patch' ran rampant through it last year. I'll be honest with you, I'm still trying to find the right solution, it's a wicked lawn disease.
My plan for now is to use Heritage for disease control, and re-sod. I'll have to check in with you later to let you know if it works. Wish I could guarantee a cure, but even some of the top experts in our field find this turf disease difficult to control. It's embarrassing to show the pic, but take all patch really does take all! (Jack wants to know where all his grass went!)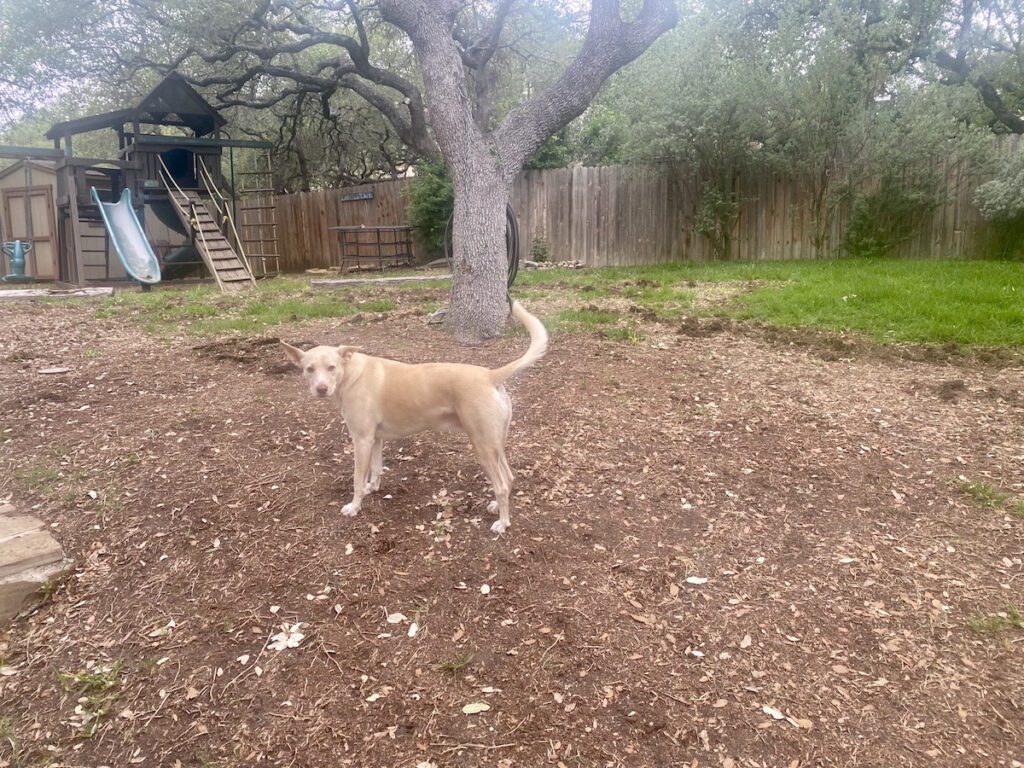 If you need to thin out your shade trees to allow more sunlight to filter through and down to your turf, do it now. Maybe you like the shade, or it's not feasible at this time to thin out your trees; consider replacing turf under shady areas with a groundcover.
Maybe you are just so sick of battling issues with your lawn that you are ready to get rid of most of it. SAWS offers a great program to help you do this. You can apply for their WaterSaving Landscape Program through which you end up replacing portions of your turf with all sorts of plants suitable for Texas that save you water, money, and time battling lawn problems.
Again, NOW is the time to do this. The faster you can get your perennials, trees, and shrubs planted in spring, the better equipped they will be to survive their first San Antonio summer. Plants that are put in the ground going into summer will definitely struggle to not only thrive, but even survive.
If your turf is in pretty good shape, keep it that way. Offer it an application of spring fertilizer now. Rainbow Gardens 19-5-9 has been specially formulated for the needs of warm weather turf in our area. The time to apply is now!
Keeping San Antonio lawns green and healthy really can be a challenge. There are many variables that can affect their outcome. You can browse through our Learning Center in our Turf and Lawn section for helpful information on lawn care. Being informed is your top tool for success. If you are keeping your grass this year, let's commit to making a plan for lawn care NOW.
~The Happy (but turf-struggling) Gardener, Lisa Mulroy