I hope you don't find me too pushy when you read, once again that you should be planning, preparing, and planting fall vegetable gardens but we really don't want you to let the best season for planting to pass you by.
In fall we get an opportunity to continue to grow warm-weather vegetables IF we get them in at the proper planting time. Peppers, squash, cucumbers, eggplant, tomatoes and more are in the nurseries by the beginning of August, if not earlier. Plant tomatoes after the first couple weeks of August and it will take a wish and a prayer in order to get a harvest in before the first cold snap. Follow our vegetable planting guide these next few early months of fall to see what you should be planting and when.
It's like having a shot at a "second spring" when the early, warm-weather, fall vegetables arrive at the nurseries! Plant those tomatoes now!
Our second opportunity to grow vegetables comes hot on the tail of the warm-weather vegetables. Our cole crops and cold-weather vegetables will probably make an appearance by the end of August. Broccoli, cauliflower, cabbage, kale, and more cold-weather vegetables will be hoping you left some space in your gardens for their healthy goodness.
Since we can't pump "harvest spice" potpourri through the phone and computer, we're going to tempt you with the sight of some cold-weather veggies you can look forward to trying AFTER getting your second round of warm-weather veggies in.  Call or check in often to see when new shipments and cold-weather vegetables have arrived.
It won't be long until the cold-weather fall vegetables arrive at the nursery. Here is our event coordinator, Laura Jarvis, showing her bounty from fall veggie planting.
Rainbow Gardens strives to find your favorite vegetable varieties along with some more unique selections. Enjoy a range of cauliflower from the purest of white to orange or purple.
Green Magic broccoli is always a hit, but have you ever tried growing Romanesco broccoli? You may think you are growing an alien where you planted it, but I bet you'll love it (kind of a cross between broccoli and cauliflower).
Swiss chard is not only one of the healthiest veggies out there, it's beautiful too. Large leaves grow from stems, forming a vase shaped plant that is attractive in both vegetable gardens, and in your landscape as well. There are many varieties out there to choose from, so it's time to have a little fun and try something new.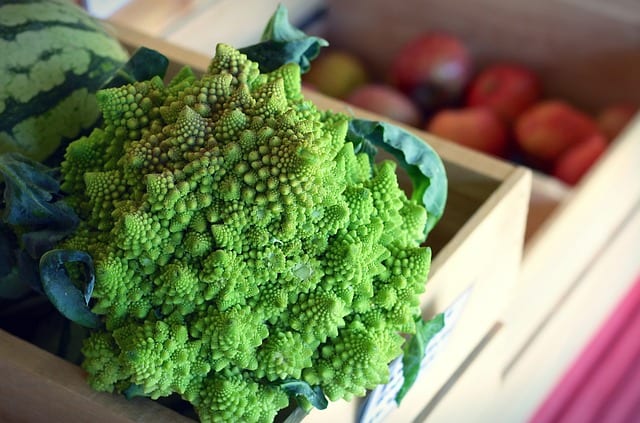 Told you it looked a little "alienish". Romanesco broccoli, what fun!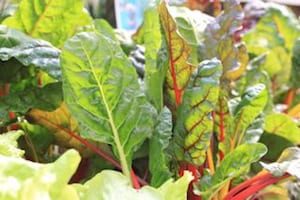 Swiss chard, beautiful enough for a spot in your landscape.
We carry lots of interesting varieties of radishes in our seed racks. These fall vegetables are super easy to grow by seed, and better than transplants because of their sensitive, long, taproot (doesn't like to be disturbed). You'll find varieties with a bright red hue outside of a snow white center. Or you may find some "Easter Egg" radishes on the seed rack, and be planting a mix of red, white, rose, pink, and purple radishes.
Our seed racks are full of interesting fall vegetables like these radishes.
So, come on in and gather your warm-weather veggies first but be sure to save some room in your garden for the cold-weather veggies that will follow. It's gonna be a busy fall, but it just might be the best one yet!
~The Happy Gardener, Lisa Mulroy