How are you doing on your holiday gift list? Do you have quite a ways to go? All I know is that December seems to fly by and before I know it, I'm in scramble mode. Lucky for me I have plenty of gardeners on my shopping list. With that in mind, this blog is chock full of gift ideas for people on your "nice" list who love to get their hands in the dirt.
Some Great Gifts for Gardeners
Indoor seed starting season is just around the corner. Why not get your favorite gardeners all set up for the task?
A gift bundle consisting of seed trays and/or pots, a bag of seed starting mix, a spray bottle for misting seedlings, plant markers, and of course a bunch of seed packets is the perfect combination of things needed for your gardener to get a jump start on the next growing season. 
A few seed packets can be stuffed into a Christmas stocking or presented in a miniature ceramic pot for a smaller gift.
I don't know about other gardeners, but I have been pretty grateful in the past when someone gifted me a premium bag of potting soil, or a few bottles or bags of top notch fertilizer for my plants. They loved me enough to know how much I love my plants and that I want to give them the very best. It might not be a diamond ring or a new truck but it truly is a thoughtful gift.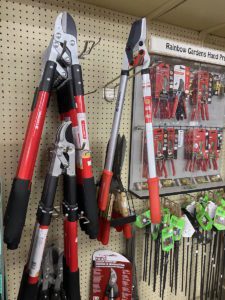 Tired of watching your favorite gardener use brute force to pry open their rusty pruners each season? Does a loved one have a rake that misses most leaves because half the tines are broken off?  It might be time for the gift of new gardening tools. Most gardeners are thrilled to receive a shiny new replacement and Rainbow Gardens has plenty garden tools to choose from.
Want a great gift idea? Have your favorite gardener's pruners sharpened by Hello Sharpness. We now have a drop box at both of our locations. Place your order online and follow instructions for tagging and dropping off tools at the lock box located inside the store. Come pick up your newly sharpened tools and put a big fat red bow on them. Your favorite gardener will be thrilled (even if it happens to be yourself)!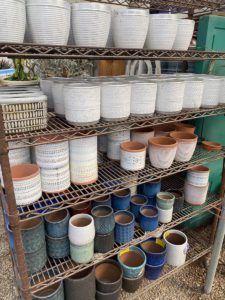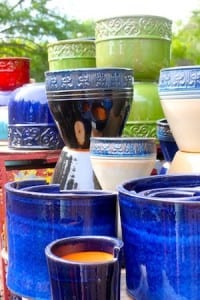 Where is all the talk about PLANTS? You were wondering when that was going to come up in a blog about gardening gifts, right? Well, right now we have both beautiful holiday plants to decorate with and enjoy through the year's celebrations and gorgeous cold weather plants to enjoy all season long (and them some).  You can make someone's winter very colorful!
Psst… the trees and shrubs to enjoy throughout the years are gifts that keep on giving.
It's only obvious that you now need a pot for your plant gift. Or maybe you just need the pot? Anyway, you need the pot! Look at these adorable pots at Rainbow Gardens! Pots, pots, all sorts of pots. From the tiniest of succulent pots and fairy garden pots to pots big enough for veggie gardening or housing large shrubs and small trees.
There is a reason we are called Rainbow Gardens. Along with our colorful plants, you can pretty much find every color of the rainbow somewhere in our pot inventory. We love pots and think they are great gifts to give the favorite gardener in your life.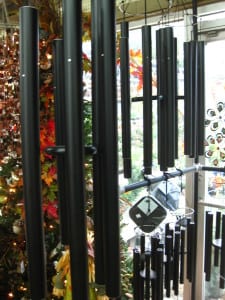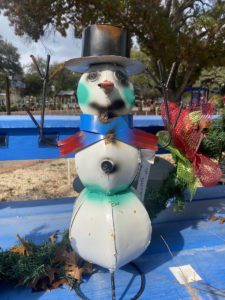 We also have plenty of whimsical gift options in the front of our stores. Musical wind chimes and little ceramic birds both have a place in a gardener's heart. Christmas ornaments, holiday and everyday metal art, birdhouses and hummingbird feeders bring smiles.
Whether you come in now (please do) or run in at the last minute (no judgement), Rainbow Gardens can be a great place to check off the names on your list. If you happen to get something for yourself, we think you deserve a gift too!
~The Happy Gardener, Lisa Mulroy