Rainbow Gardens is embarking on a new blog segment where each month we would like to give a shout out to: a local business that aligns with our way of thinking, a product that we really think is beneficial to learn about, a plant that for one reason or another we think is fabulous, or some combo of those. We're simply calling this series, "A Few of Our Favorite Things". Join us today to celebrate the first of our selections.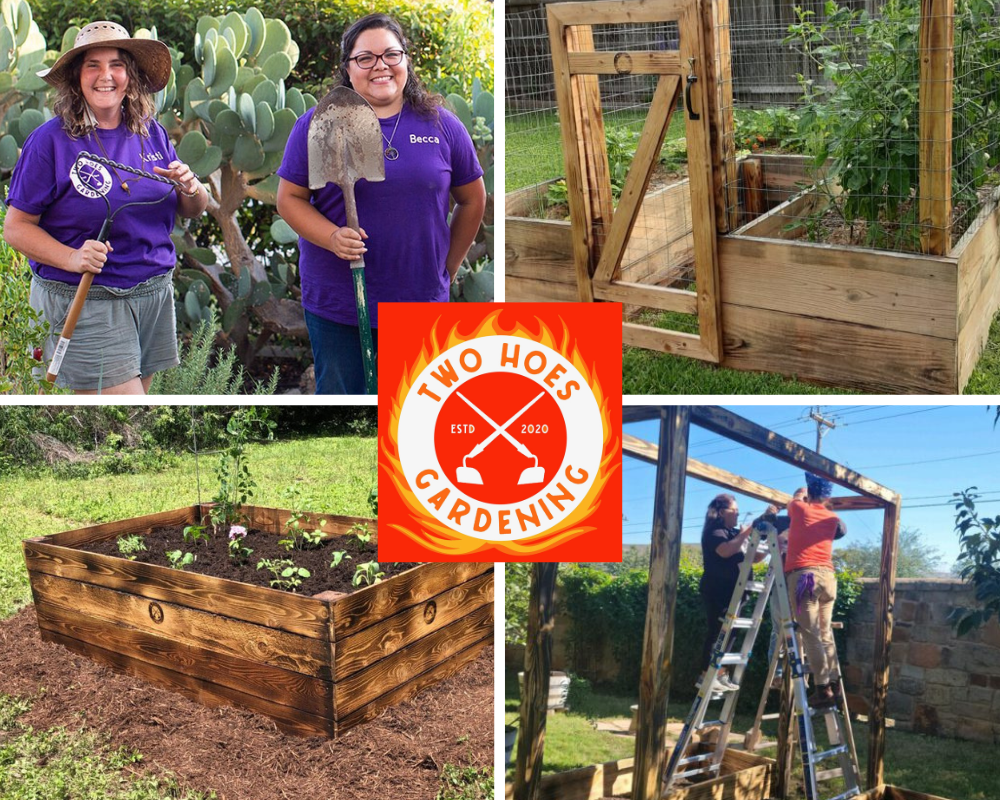 Two Hoes Gardening: This local business has stolen a place in our hearts. They are a small, San Antonio business with a great big focus on sustainable and regenerative gardening. This falls right in line with our philosophy that successful gardening and landscaping truly begins with the health and quality of your soil. It's true folks, and the sooner you realize that, the less trial and error you'll have to do (although, there is always some amount of trial and error when it comes to gardening).
Becca and Kristi are co-owners of Two Hoes Gardening and combine their experience to teach classes on permaculture, biodynamic gardening, and most everything in between. With the help of their carpenter and custom wood designer, Ben, Two Hoes Gardening can help you create a garden design that is tailored specifically to your needs, and install it for you as well. They'll make sure you are educated on maintenance and upkeep for your garden spaces as well. 
At Rainbow Gardens, we've had the pleasure of hosting Two Hoes Gardening as speakers for numerous classes this year and they have all been met with enthusiasm and appreciation. Two Hoes Gardening always arrives with a wealth of information on the subject they are speaking on, as well as terrific visual aids, and a welcome attitude for any questions. We are sure to have them back next year when our event season starts up again, and I highly recommend checking out some of their classes. You can learn more about them on their website, Twohoesgardening.com and check out their Facebook page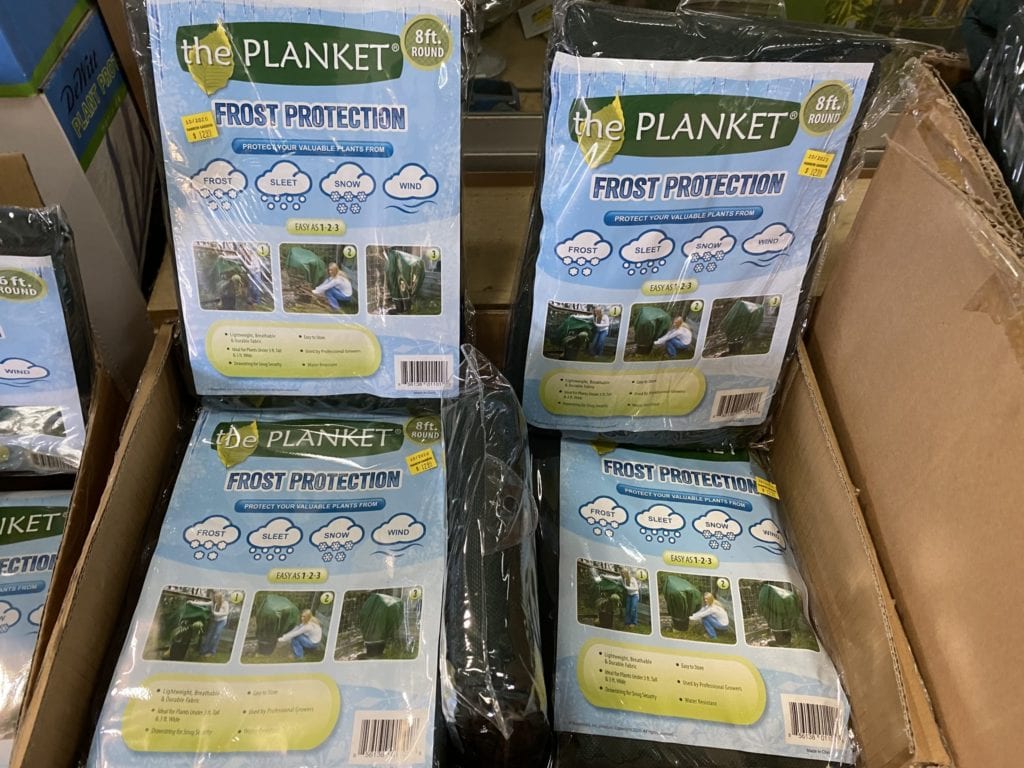 N-Sulate and Plankets: Friends, we can't stress the importance of these products enough this month! November is when our first freeze could possibly slice through. It's easy to get caught up in the holiday hub bub and get sidelined from checking weather forecasts every hour. But when that front blows in and you realize you haven't purchased your plant protection, you might be stuck pulling the sheets from your bed in order to keep your plants alive. 
We are ok with sheets and blankets being used too, but N-Sulate and Plankets are a convenient, easy way to quickly protect your plants and know that you are offering them about a 6° – 8° degree difference. Believe us when we say that difference in temperature can also be the difference in life or death of a plant. Cool weather is here, and colder weather is on the way. We encourage pro-activeness when it comes to N-Sulate and Plankets. You do not want to try to buy them the day of a hard freeze. Chances are, they'll most likely be sold out.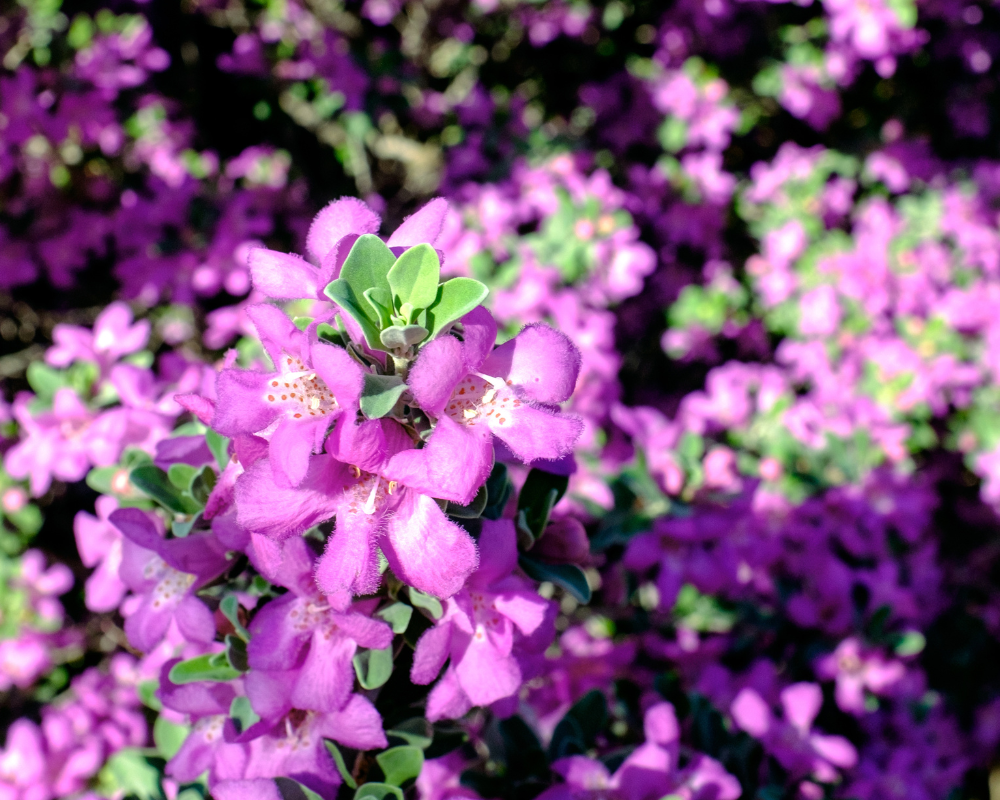 Texas Sage (Ceniza): The November rains we've recently been receiving gives us a great reminder why Texas Sage is one of our absolute favorite plants. Nicknamed 'The Barometer Plant', Texas Sage is hypersensitive to changes in atmospheric pressure leading it to burst into bloom with the forecast of rain or a few days after we receive it. When moisture is predicted, the plant gets covered in flowers, most commonly in purple-magenta hues, but can be white or lilac depending on variety. 
A hardy shrub that comes in a variety of sizes with foliage ranging from green to silvery-gray, once established, Texas Sage can see you through winter temps as low as 5°F and thrives in the hottest temps our blazing San Antonio summer sun can dole out. Easy care, no pest or disease of any interest, this native Texas shrub is a pollinator nectar source and a host plant to the Theona Checkerspot butterfly and Calleta Silkmoth. You can top everything off with a high resistance to deer, and you've got yourself a shrub that can live a happy life in the city or out in the hill country. November and December are great times to plant shrubs so find a spot for yours these next couple months. 
Tune in next month for January's picks. 
~The Happy Gardener, Lisa Mulroy