Butterfly and pollinator gardens are hot topics, especially since we are on the cusp of the fall pollinator migration about to soar through San Antonio. Today I wanted to highlight a few of the amazing plants that live in our butterfly garden at our Bandera location. Choose these plants and it will just be a matter of time before you will have butterflies, bees, and hummingbirds whirling around in ecstasy.
5 Butterfly and Pollinator Garden Plant Selections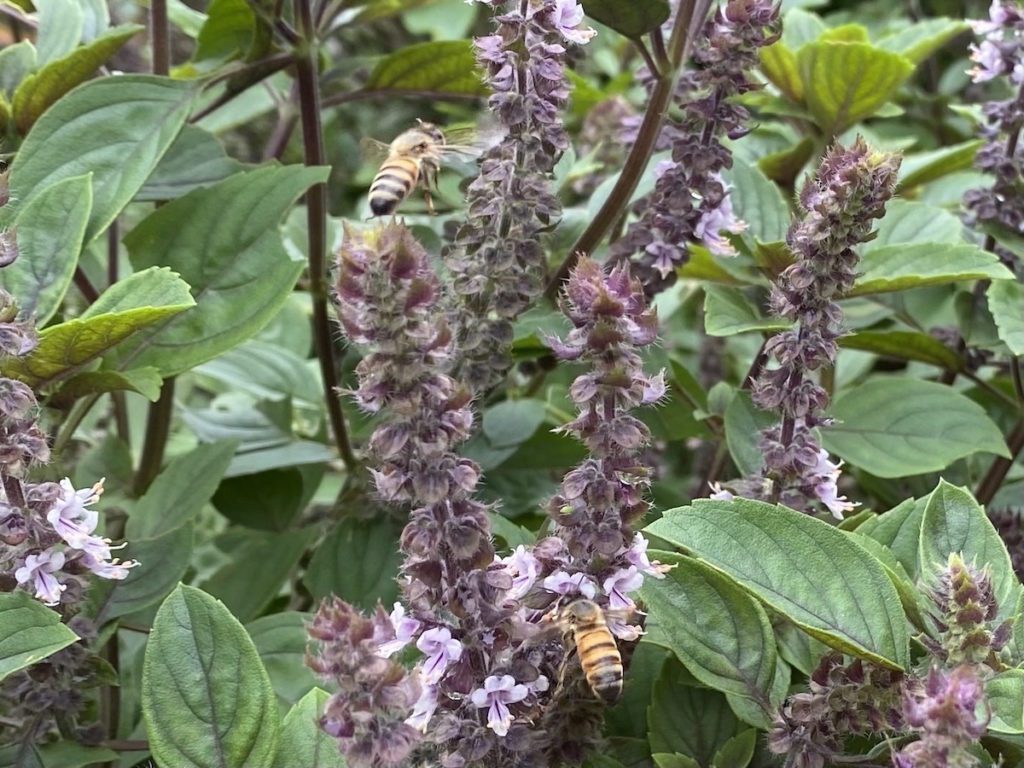 1. African Blue Basil (Ocimum gratissimum): This is an amazing herb that doubles as a butterfly and bee magnet. I always plant this right in the center of my vegetable gardens to draw in the bees and butterflies so that my veggies will be well-pollinated. You can also use the leaves in your recipes that call for basil. The plant is a hybrid cross between Camphor basil and Opal basil. I grow it exclusively as a pollinator plant because if you let it flower, it explodes with profuse, purple blooms.
Plant in full to part sun in well-draining soil. Average growth is about 4′ high with a 2′ spread.Even though it is the most cold tolerant of basils, it still doesn't like cold weather. However, it is easily propagated by stem cuttings in water, so you can easily continue to grow it inside throughout winter. Get your pollinators some African Blue Basil when you can find it!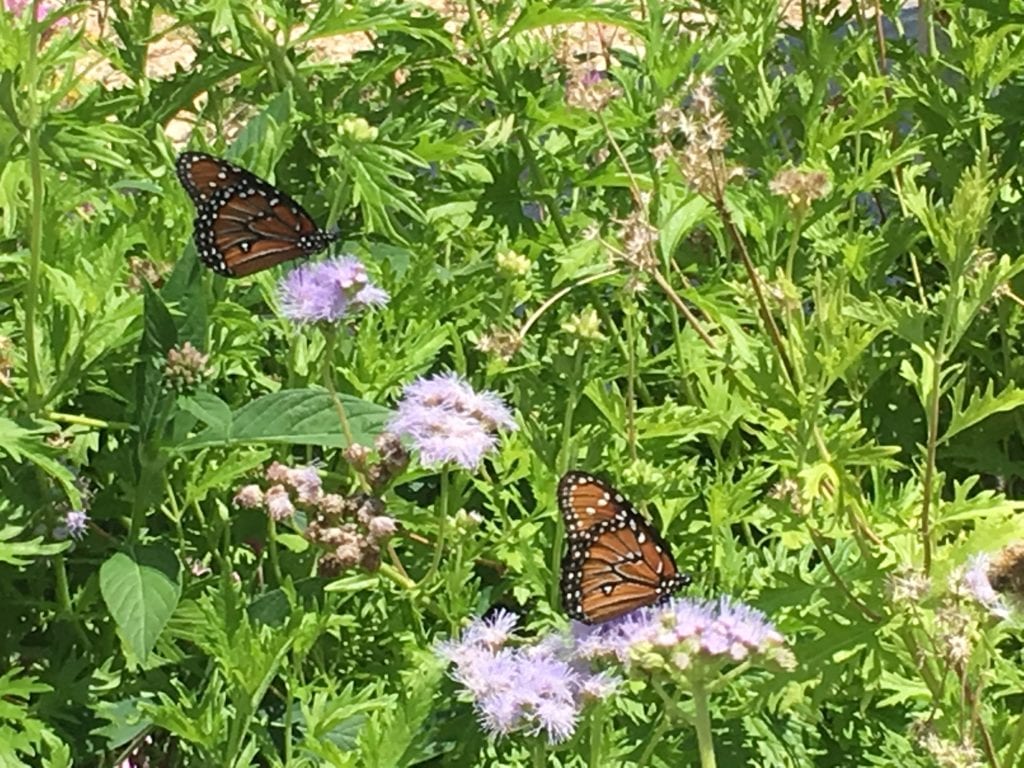 2. Gregg's Blue Mistflower (Conoclinium greggii): This is a MUST for pollinator gardens. Butterflies go ga-ga over the fuzzy, powder-blue, pom-pom like flowers that grow in abundance on this native perennial. There is always a butterfly party happening on these from summer to fall.
Gregg's Blue Mistflower grows like a groundcover( 1′-2′ tall x 2′ wide) and can spread aggressively, but if you have a lot of space to cover, this is the one to choose. Sections can be cut with a sharp knife or spade and be relocated if needed to keep in check or to add even more  to your landscape. Sun to part sun is best, as well as well-draining soil for this drought-tolerant, deer-resistant butterfly magnet. This one will not disappoint.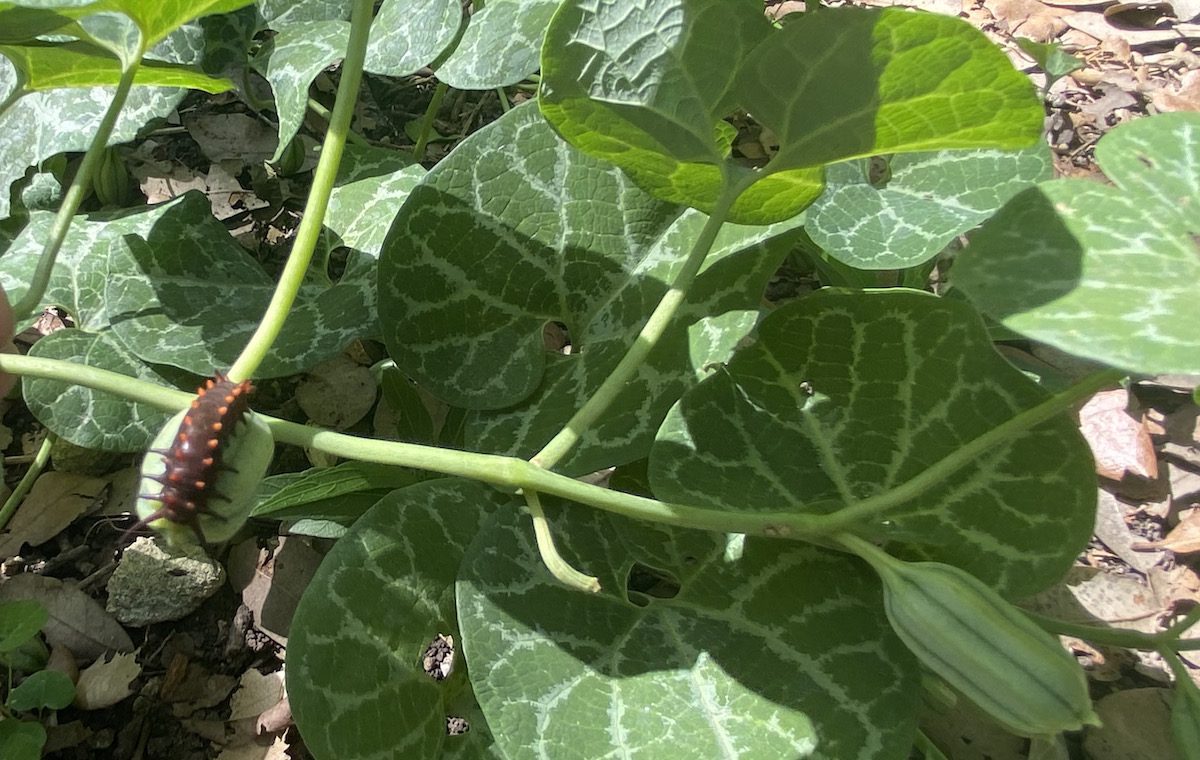 3. White-Veined Dutchman's Pipe (Aristolochia fimbriata): This is the most amazing host plant for Pipevine Swallowtail butterflies. Once the butterflies find the pipevine in your landscape and lay their eggs, it is only a matter of days before you will have some crazy looking caterpillars voraciously munching away. The caterpillars can quickly decimate the plant, but it just as quickly regenerates.
Plant White-Veined Pipevine in the shadier areas of your pollinator gardens. It grows very low to the ground in a vining habit, so you can easily include it amongst your other, taller, pollinator plants. Do NOT plant this one if you don't understand that this is caterpillar food! Butterflies can't resist laying eggs on it once they find it. Sometimes hard to find in the nursery, so if you come across it, snatch it up.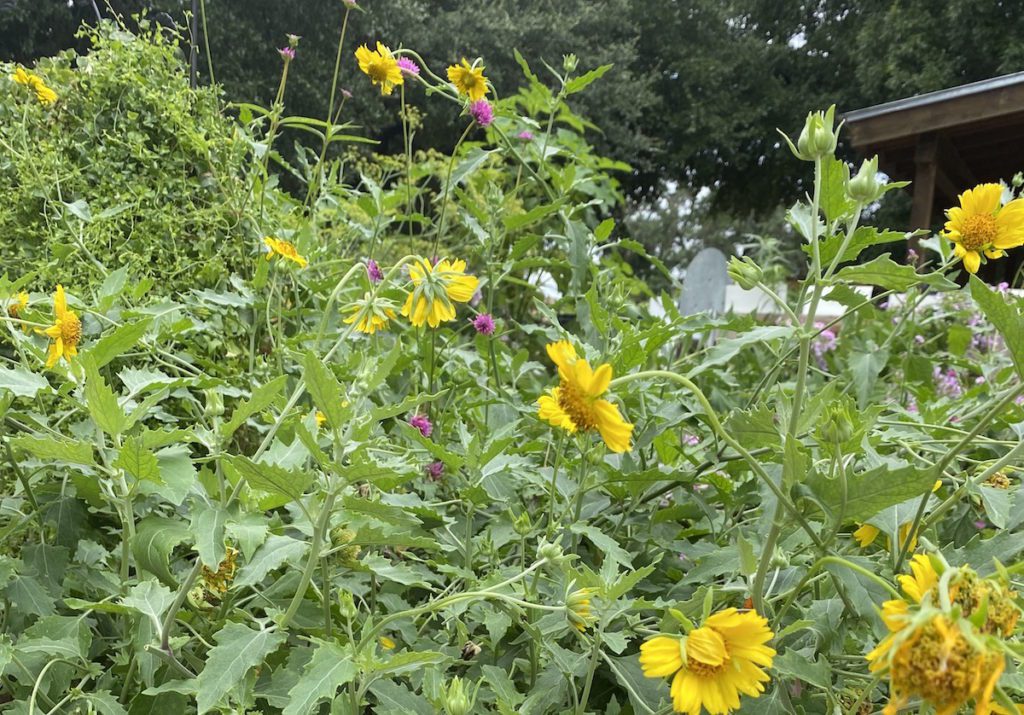 4. Cowpen Daisy (Verbesina encelioides): The Cowpen Daisy is a host plant for the Bordered patch butterfly and offers a great native nectar source for all pollinators. Sunshine yellow daisies grow in abundance on these native annuals. Cowpen daisies are low water users and resistant to deer.
Plant in full sun to get the most blooms. Harvest dried seeds to sow in more areas of the landscape in late fall. The Texas Butterfly Ranch named it, "San Antonio's unofficial pollinator plant of the year" for 2019; and they know their pollinator plants! This easy-to-grow, self-seeding, butterfly favorite provides nectar from late March through November and maybe even longer. Native butterflies and bees will enjoy the nectar while  native birds will feast on the seeds.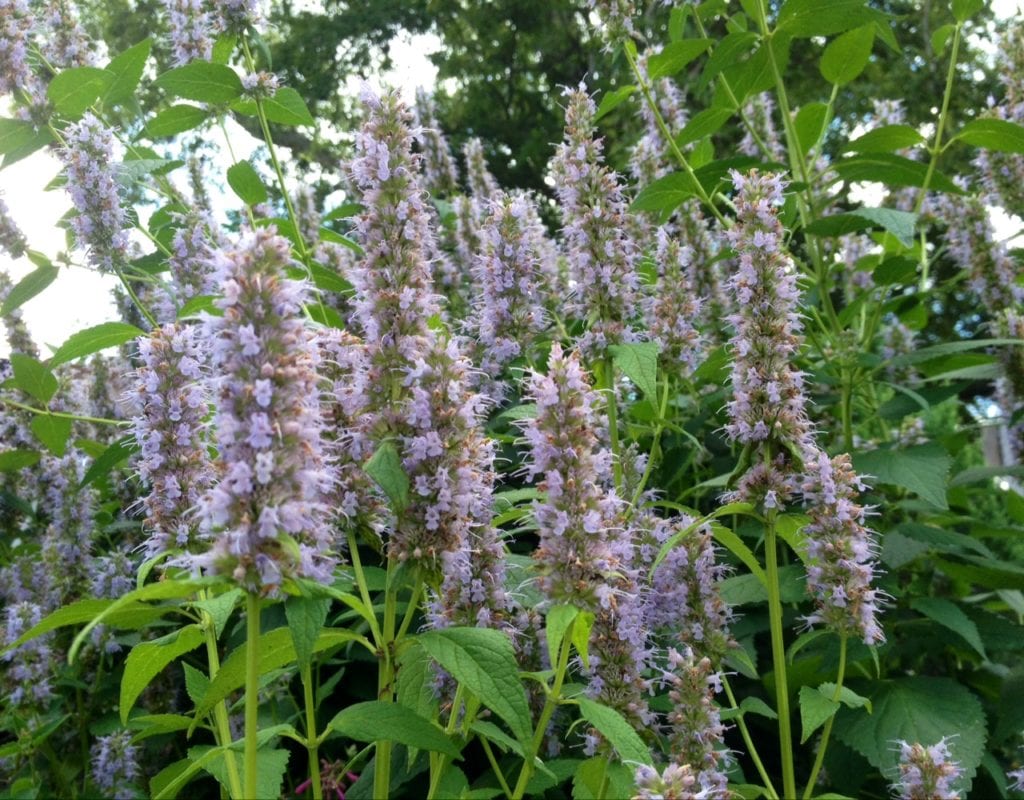 5. Anise Hyssop (Agastache foeniculum): Another herb to include in your pollinator gardens is Anise Hyssop or Agastache. This herb is a perennial, coming back each spring, making it a reliable bloomer that will aid in pollination. I like to include this around my vegetable gardens. (But not inside it because it doesn't need as much water once it's established.)
Plant in sun to part shade (afternoon shade is appreciated). Agastache grows to an average size of around 2′-3′ tall x 2′-2.5′ wide. Leaves can be used for teas; flowers retain color and fragrance when dried. Anise Hyssop has a fragrance similar to crushed fennel seeds. there are many varieties of agastache to choose from, and they all make great pollinator plant additions to your gardens or container gardens.
Hopefully you know that there are a ton more pollinator plants that we advise including in your garden. You can simply search pollinators on our website and you'll be offered many looks at some amazing options. These were just a few that caught my eye when visiting the pollinator garden at Bandera.
We urge everyone to grab milkweed and other nectar rich plants when you see them at the nursery this month so you can be ready for the Monarch butterflies to fuel up during their migration through our city in October. We'll have early arrivals so the sooner you get your plants the better.
~The Happy Gardener, Lisa Mulroy