More and more people are learning about Duranta being an amazing pollinator plant for butterflies and hummingbirds and I couldn't be more thrilled. If you've never heard of this plant, or seen it in action, you are in for a treat today. I'm taking you on a nectar-filled adventure with a favorite pollinator-attracting plant of Rainbow Gardens. (Featured photo credit: Laura Jarvis.)
Duranta (Duranta erecta), is a Texas Superstar® plant that constantly brings me joy in my garden. The foliage and growth habit of Duranta is nice all by itself, but once the blooms come, the real show begins.
True-green foliage and limbs grow in an upright, yet weeping form. Summer through fall, clusters of rich, purple flowers with white margins line the terminal ends of its branches. On some varieties golden-yellow seedballs follow the blooms. While the seedballs delight local birds, the blooms can draw in hordes of butterflies. The first time I saw a mature Duranta, in Laura Jarvis's backyard, I was literally almost dizzy from the whirling dervishes swooping around in delight. There were SO MANY butterflies! I knew right then that I had to have this plant in my backyard. That was years ago and I've made it a staple in my landscape and containers ever since; my pollinators have been very happy with it.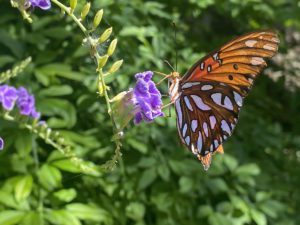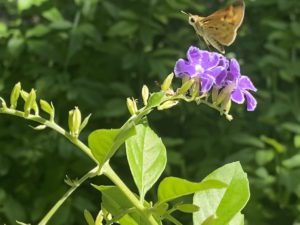 In most of Texas, Duranta is to be treated as an annual or tender-perennial. It will depend on the severity of the winter. South Texans can consider it a perennial, and here in San Antonio, we are kind of on the cusp. I bring in my potted Duranta and protect the one in my landscape in the event of a freeze. (I will say that strangely enough the one in my landscape, a little bit protected by my neighbors tree, somehow survived SNOVID!) The USDA hardiness zone for Duranta is listed as 9.
Duranta is not a dainty little wallflower. This plant likes to stretch out its limbs to make sure all the pollinators sees it! Whether planting in the ground or in a pot, give this beauty room to grow.
For landscape plantings, Duranta prefers well-draining soil, rich in organic matter. The addition of compost or soil conditioner may be necessary if your native soil is not ideal.
Did I mention that my Duranta is in a huge pot? You need a big one if you are gonna pot Duranta up. A half whiskey barrel sized container is about right and make sure you have drainage holes. Use a high quality potting soil like Happy Frog from FoxFarm, and your Duranta will be sitting pretty.
Duranta will put out more blooms when planted in full sun, but I'm going to fill you in on my experience. The Duranta I have in a pot in full sun definitely does have more blooms. However, I have found it to often get a little wilted looking by the end of a summer day. Once I moved it to a location that got full sun for a good chunk of the first part of the day and some shade in the late afternoon when it is hottest, it got happier.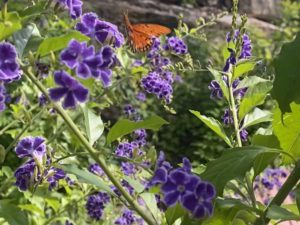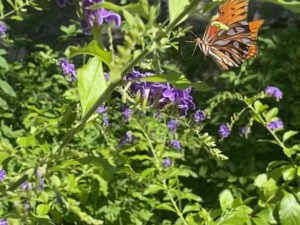 Duranta can go for some time between waterings once it is established, as long as when you water it you are watering it deeply. This means watering slowly so the water has a chance to seep into the soil. You are wanting the water to soak around 8 inches into the soil. That's a nice, deep watering!
So how about it? Are you ready to give the local butterflies and hummingbirds a fantastic treat? I sure hope you are!
~The Happy Gardener, Lisa Mulroy