Herbs are a must for any type of gardener! Whether you prefer container gardening, veggie gardening, landscape gardening, or even indoor gardening, herbs can be included in all of these and are sure to enhance them as well. As a matter of fact, you might find yourself having a hard time reigning yourself in once you see just how easy and amazing incorporating herbs in your gardening repertoire can be!
Today I'm going to touch on a few of my favorite herbs. Some are common, some more unique, but all have done right by me one way or another. Besides sharing my favorite herbs, I also love to share my advice to plant enough herbs for you to eat and to also give the pollinators a treat.
4 Great Herbs for Cooking and Pollinators
1. Borage: Besides being herbs that produce gorgeous blooms of my favorite color (true blue), Borage makes a great addition to vegetable gardens as it acts as a welcome signal for pollinators. These are annual herbs that grow to about 2 – 3 ft. tall, and thrive in sun to part sun. Borage will flower spring to early summer.
Eat: All aerial parts (above soil) of Borage are edible. Young leaves can be eaten raw (cucumber-like taste), steamed, or stir-fried. Beautiful blue flowers can add sophistication along with a touch of whimsy to a garden salad. Borage is cultivated in many areas for its seed oil which is used topically.
Treat: As mentioned above, borage is an amazing pollinator attractor. Bees hone in on the bright blue hue (one of their fave colors too) of the borage flowers. Plant this herb anywhere you want a little extra help in the pollination department.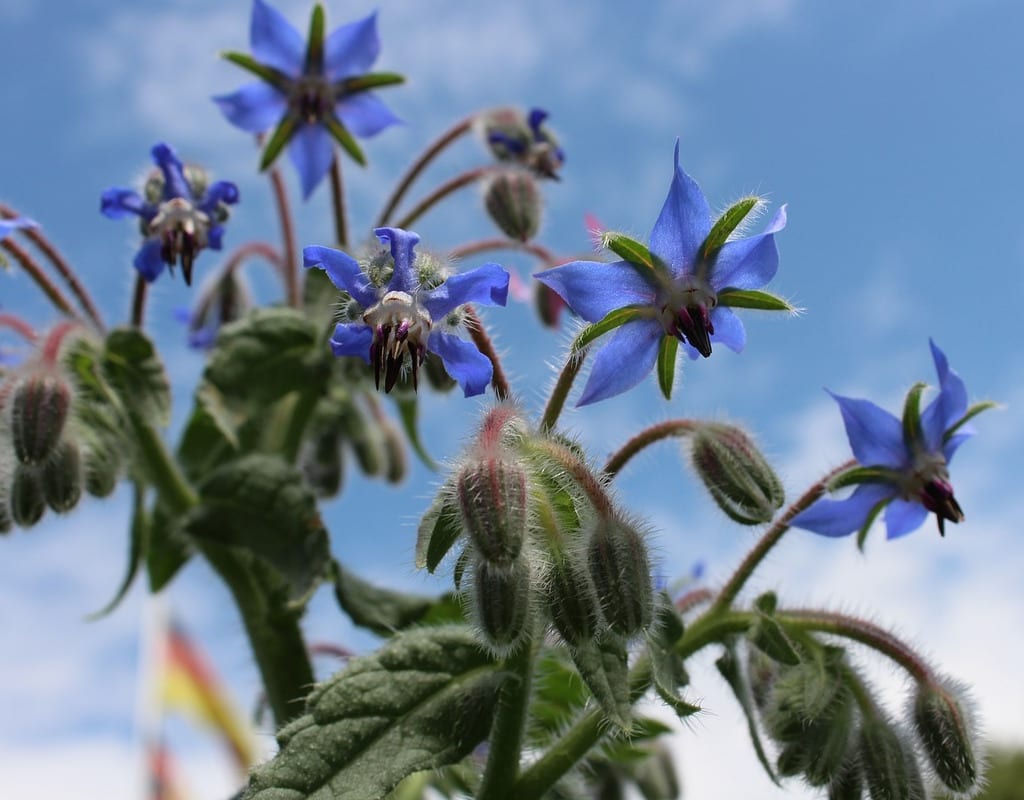 2. Mexican Mint Marigold: This perennial herb is terrific in the San Antonio landscapes with its deer resistance and low water usage. Mexican Mint Marigold grows to average heights of around 2 feet. Plant in sun to part sun and enjoy the cheerful, sunshine-yellow, daisy-like flowers in fall and large, flavorful leaves with a soft, pleasant, anise fragrance.
Eat: Leaves and flowers are edible. Mexican Mint Marigold can be used as a tarragon substitute. As a matter of fact, French tarragon does not do well in our San Antonio climate but Mexican Mint Marigold thrives! You get an even more flavorful tarragon flavor (in my opinion), a much more reliable plant, and it comes back every year.
Treat: The pollinators are big fans of the blooms Mexican Mint Marigold puts out in fall, its showiest season. You can prune this herb back to a few inches above soil a couple of times through the growing season. In early summer, prune lightly to get ready for the upcoming season. This lends to a spectacularly healthy and vibrant plant in fall; just in time for Day of the Dead celebrations and all the butterfly migrations that come through San Antonio.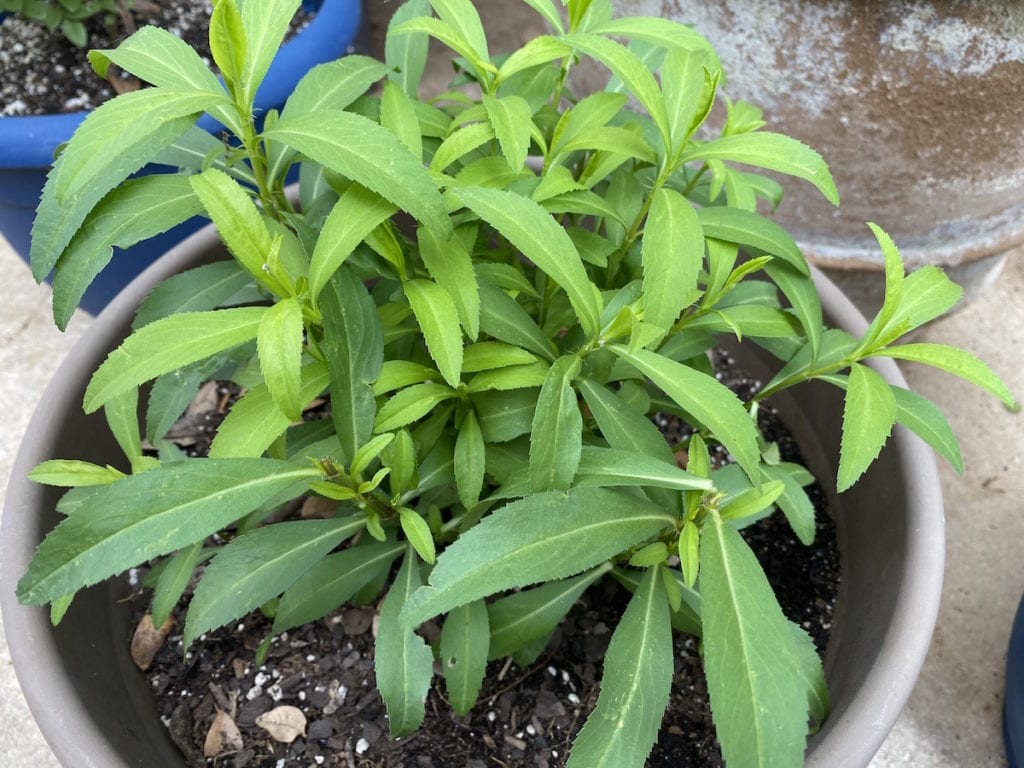 3. Basil: Once the warm weather hits, we are all clamoring for the first basil transplants to hit the tables. This annual herb loves warmth and sunshine. Plant it in full sun and it will be happiest. Pinching these herbs back often will encourage fuller, bushier growth. If left to grow leggy and woody, basil will lose its luster. Well-draining soil is a must, and morning watering is best. Basil comes in a variety of sizes and colorings (green, purple, combinations, etc…) making them beautiful annuals to fill the open spots in your sunny landscape.
Eat: All aerial (above ground) parts are edible. Can you even have Italian food without this herb? From the peppery taste of pesto to a fresh Caprese salad or bruschetta, if it's lacking fresh basil, it's lacking flavor! This annual herb now comes in so many varieties that it's a bit mind boggling, but I make it a point to try a new flavor of basil each year. From time to time you can find flavors of sweet (Genovese), lemon, lime, cinnamon, spicy, and Thai basil.
Treat: Oh how the pollinators love the tiny, nectar-filled flowers of basil. My absolute favorite to offer them is African Blue basil, but it's not always available. (Another reason I stand by this basil is because I took cuttings during fall, rooted and grew them over winter, and now have two gorgeous plants I potted up this spring!) Allow some of your basil to flower and watch the butterflies and bees go crazy. This year I'm on the hunt for Cardinal basil, which looks like celosia and produces deep-red flowers on top of burgundy stems. Hope I find some!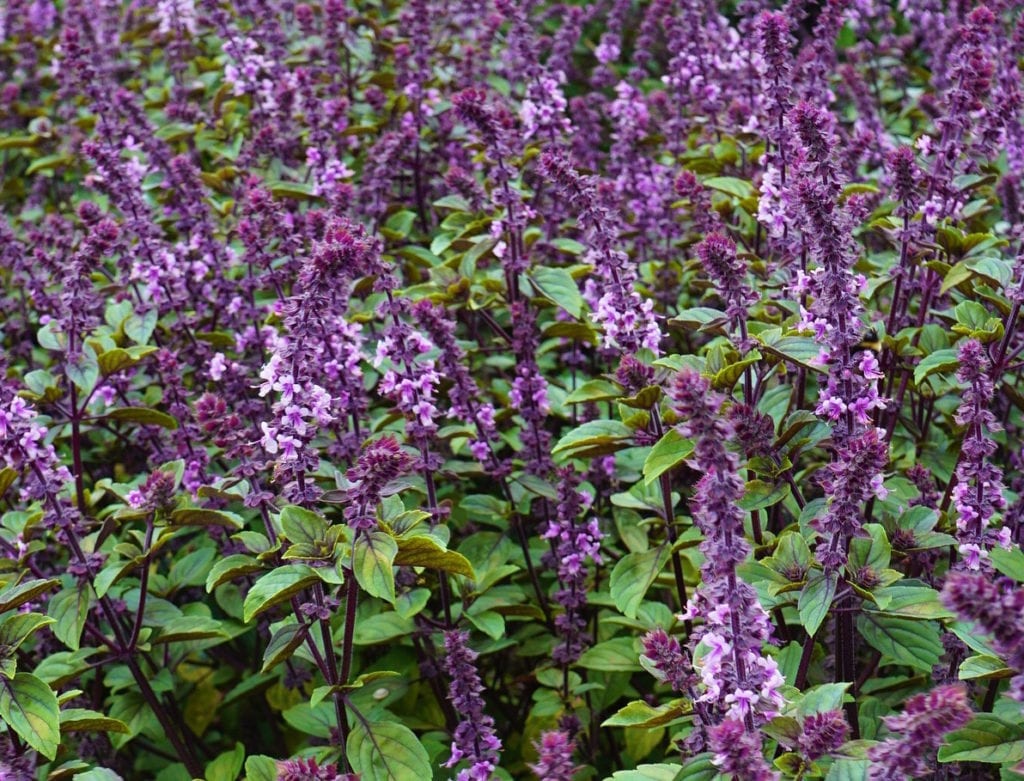 4. Mint: The herbs in this family are vigorous perennials that, honestly, don't always know their limits. As soon as I learned that mints are better when they are somewhat contained, I fell in love with them again. (In years past I'd have to stage a mojito intervention; I had so much mint!) Plant in pots or in the ground. (Pots with bottoms cut out and somewhat buried in the soil are ideal to plant mint in to keep its roots contained.) These herbs need some reprieve from the hot afternoon sun. Know something cool? All members of the mint family have square stems. Square stems! Another simple reason to love these herbs.
Eat: All aerial parts (above soil) are edible. Just like basil, mint now comes in a ton of varieties. Apple, orange, orange bergamot, spearmint, lime, mojito (yes, really), pineapple, ginger and chocolate (yes, really) are just to name a few varieties of mint we have seen through the years. These herbs are a favorite to steep in hot water for a stomach soothing tea, or just drop some in water overnight for a refreshing herb-infused healthy, hydrating drink. Mint is delicious in Mediterranean dishes and makes a great fresh addition to smoothies.
Treat: I think you see the pattern here. Allow herbs to flower and the pollinators go nuts. Mint flowers are usually white to lavender in hue and are teeny tiny but come in multitudes. The buzz on bees definitely seems a little happier when they are checking out each tiny nectar vessel on these herbs.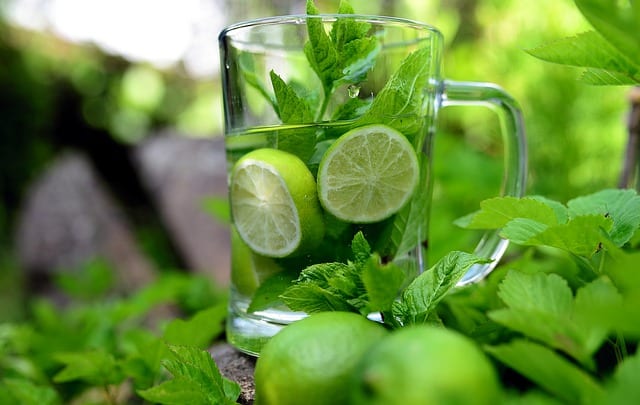 Thank you for letting me celebrate some of my favorite herbs today. I can easily more than double this list by adding some other faves like: rosemary (lasted 15 years until this crazy past freeze), oregano (in a garden that sometimes gets neglected, this is usually still standing), agastache (a hummingbird magnet), beebalm (another boundary tester, but boy does it make some buzzers happy), rue (lots of branches for swallowtail eggs), parsley (huge difference whne you use fresh in cooking as opposed to dried) and fennel (ditto for swallowtail eggs, plus the bulbs are deliciously sweet when eaten raw.)
I hope you'll give herbs a try somewhere in your landscape. Why not try a new one this year?
~The Happy Gardener, Lisa Mulroy