Returning customers know that once the weather brings in warmer temperatures that stay, plumeria soon arrives at the nurseries. These customers also know that once plumeria starts showing up at Rainbow Gardens, they don't stay around for very long. These highly sought after tropical trees are coveted for their intensely fragrant and beautiful blooms that can easily transport ones mind to island time.
No need to spend an arm and leg on vacation expenses to see plumeria; just head in to Rainbow Gardens during the early summer months. Today we are talking about how to take of these tropical beauties in your San Antonio gardens.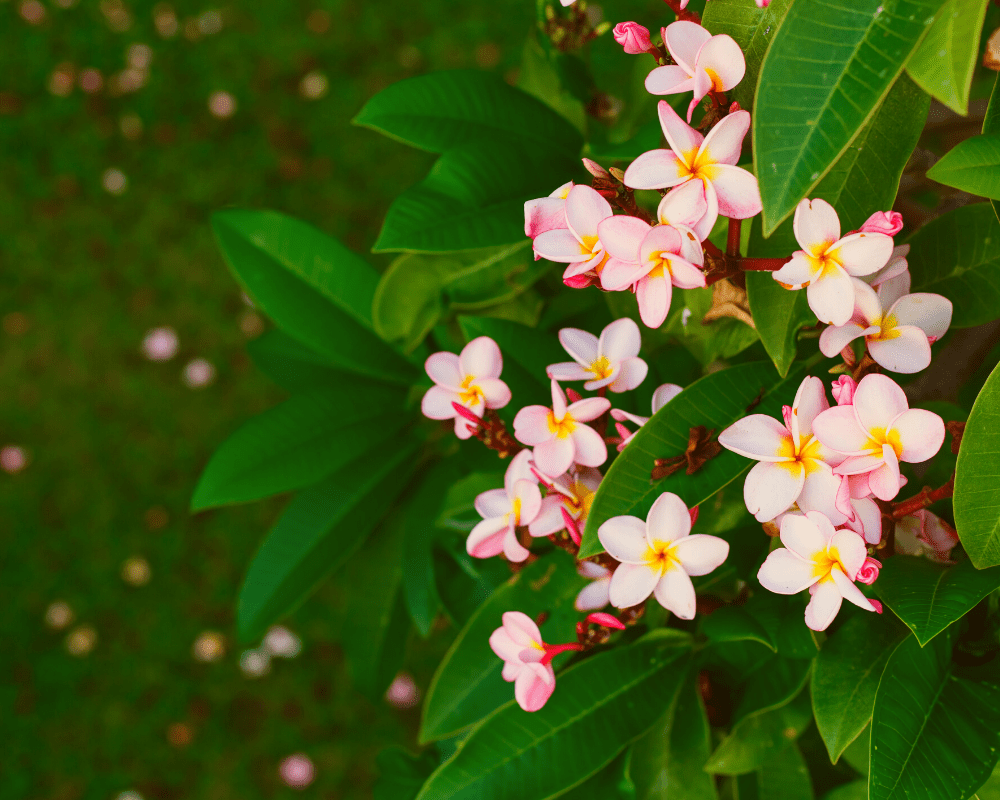 7 Tips for Growing Plumeria in San Antonio
1. Light requirement: Plumeria need full to mostly full sun, as you probably deduced by plumeria being a tropical plant. A minimum of 6-8 hours of sunshine is best to get those fragrant flowers blooming.
2. Where and where not to plant: Here in San Antonio, plumeria should NOT be planted in the ground. Tropical in nature, they are cold sensitive and will need winter protection. While plumeria are hardy to 33° F, it's a good idea to make plans to move them in once temps hit 40°F and lower (more about winter protection later).
3. Pot size: Plumeria need to be planted in pots optimal to supporting their growth. Planting in a pot too small doesn't allow for the roots to have ample room to grow. Too small and too light of a pot could also cause the "top-heavy" plant to easily topple over on a windy or stormy day. The plant could be damaged and you will be sad, and we don't want you to be sad.
Plant in a pot too big and the soil may stay too wet. A general rule of thumb is to use a 1 gallon pot for each foot of trunk length. 1 foot = 1 gallon, 2 feet = 2 gallon, and so on. Yes, you may be repotting a few times, but you will know that your plumeria has the correct amount of spacing for its roots.
Along with the correct pot size, make sure your plumeria pot has plenty of drainage holes to allow water to run through the soil and prevent "wet feet" (soggy roots) which can lead to root rot and the demise of your plumeria. Pots with only one hole can get clogged or blocked by the tap root easily.
Pro Tip: Use black nursery containers to pot up your plumeria. They have ample drainage holes for water to flow freely, and they are cheap! You can buy a few different sizes to easily bump up to the next size needed as your plumeria grows. Buy a pretty ceramic pot and put the black nursery pot inside to hide it. Place large river rocks around the nursery pot for stability and aesthetic purposes. When your tree outgrows the first pot, simply pull out the nursery pot, repot to larger size, and arrange it back in your decorative pot. Easy peasy.
4. Soil: Soil should be acidic, light, and well-draining; something along the lines of a cactus and succulent potting mix soil is best. Regular potting soils, if used, should be amended with peat moss, perlite, or something of that nature to lighten soil, increase its water draining ability, and to increase soil acidity for spectacular blooms.
5. Fertilizer Plumeria are heavy feeders. Slightly acidic soil is preferred for plumerias. You can help this by choosing acidic fertilizers to feed your plant. Look for fertilizers with a high phosphate number on the bag (middle number) to keep those blooms going.
6. Water needs: While plumeria can go for extended periods without water, you MUST water more often when your plants are small, new, and just getting established.
Small pots may need to be watered daily, but you will need to be observant. The key is to NOT OVERWATER. Plumeria need to be able to dry out between watering. In heavy periods of rain, like we experienced a week or so ago, you may need to move your pot under a shelter to prevent oversaturation.
Stick your finger in the soil a couple of inches into the soil for to test for soil moisture. Again, allow them to dry out between waterings.
7. Winter protection: As stated above, plumeria are only cold hardy to about 33° F. They will need to be brought in from outside during the winter season. This is the best…plumeria go dormant over winter, meaning they need no light, no water, and no soil at this time and will still remain alive! Yes, really!
You can remove your plumeria from its pot, use a gentle hand to remove the soil from around its roots, and store your plant in an unheated garage, the attic, or a spare room if you have one. (Ooh… a spare room just for plants, sounds heavenly!) Your plumeria will be fine throughout winter, unattended to. Once spring rolls in again and all danger of frost has passed, pot your plumeria back up and get ready to enjoy it again for another warm season!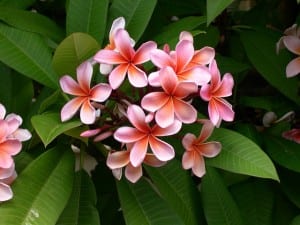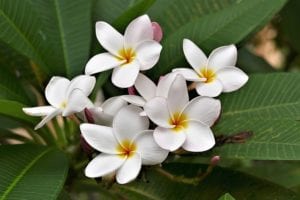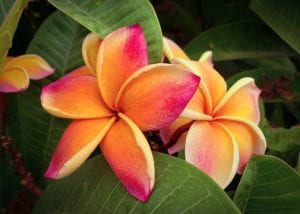 Psst…The pic of plumeria on the table was taken this Wednesday at Rainbow Gardens Thousand Oaks. Go get you one!
~The Happy Gardener, Lisa Mulroy