Let's just take a second and allow our native plants to have a major brag moment. Don't you think they deserve it? Our native plants looked snow, ice, and extended freeze exposure in the face and said, "We got this!" Have you taken a look around lately and seen the beauty these native plants are offering us right now? And after a crazy, unprecedented freeze?
We've been spreading the word for years about the benefits of including native plants. This spring and early summer has been a great testament to our advice to add more native plants to your landscape. The devastating freeze wreaked havoc on a lot of plants for sure, but many of our native plants have bounced back stronger than ever.
I have thoroughly enjoyed observing the entire rejuvenation process these plants have taken on. From the first emergence of a hopeful green sprout to what is now a gorgeous display of strength and resilience, our native plants have really proven that they are the superstars we've always thought they were.
San Antonio Native Plants that Survived the Big Freeze.
Walks around the neighborhood and drives around the city have been scouting adventures lately. I've been delighted to see what has come back in full force after the freeze. Patches of Gregg's Blue Mist have doubled in size and are already profusely blooming. Hummingbird bushes, Turk's Cap, and salvias and sages have come back more full and lush than I've seen in a while. My frogfruit groundcover  has popped up again and native Texas lantana was unscathed and many types of yucca (my fave being Red Yucca) are boasting beautiful blooms right now. American Beautyberry is leafing out with gorgeous chartreuse foliage. Many other native trees and shrubs have bounced back as well, looking stronger and more healthy than ever!
While there have been some plants that survived the freeze that are NOT native to Texas, I have found that the majority of what is looking fantastic right now, ARE native plants. Take a look around, what are you admiring right now? We bet you'll have a greater appreciaton of native plants this year.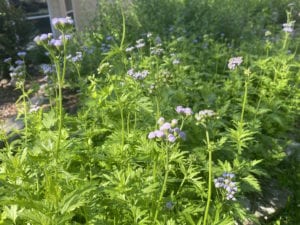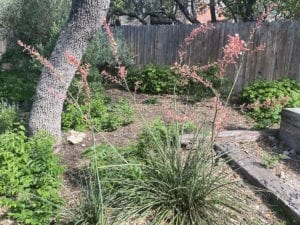 (Red Yucca in front/Turk's Cap along fenceline.)
(Can't go wrong with classic pink salvia greggii.)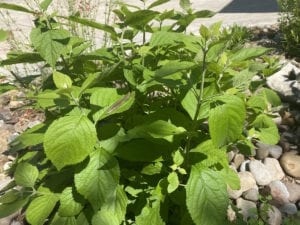 (Strong growth on American Beautyberry which will explode with purple berries in an ombre effect in summer. You get extra points if you see the little friend.)
The pictures in this blog are current. I took them today actually, and I put them right in my brag book. These are just some of the native plants that I have in my own landscape and you can bet I'll be adding more. I would love to see what native plants you'd like to brag about. I'd love to include a selection of your pictures in a follow up brag blog. 
Please send your brags to lisa.rainbowgardens@gmail.com, and make sure you let me know it is ok to share your name and pictures on our website. I sure hope you have been as delighted with the results of your native plants as I have been. Let me see! Let me see!
~The Happy Gardner, Lisa Mulroy